01 Dicembre 2022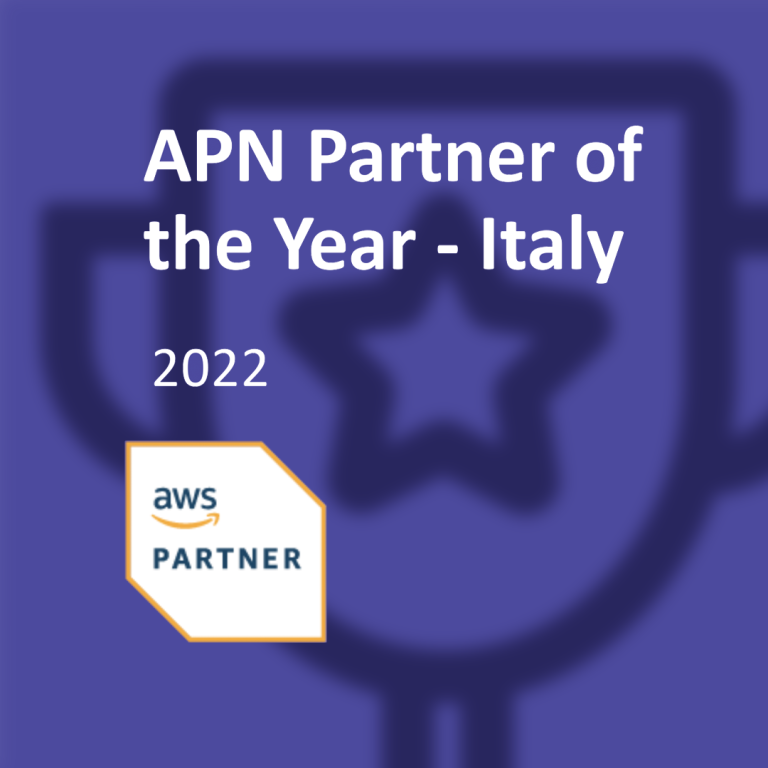 Las Vegas, 01/12/2022 – beSharp è stata premiata oggi All'AWS re:Invent 2022 con l'AWS Partner of the Year – Italy, un AWS Partner Award dedicato ai Partner italiani che svolgono un ruolo chiave nell'aiutare i clienti a guidare l'innovazione e a creare soluzioni sul cloud AWS.
L'APN Partner Awards è il riconoscimento dedicato ai membri dell'Amazon Web Services (AWS) Partner Network (APN) che si sono distinti per il numero di progetti di qualità portati avanti, per le nuove certificazioni ottenute e per i numerosi riconoscimenti AWS maturati nel corso dell'anno.
L'AWS Partner Network (APN), è un programma globale, focalizzato nell'aiutare decine di migliaia di partner che si avvalgono di Amazon Web Services nel creare soluzioni e servizi per i clienti. AWS aiuta i partner a creare, commercializzare e vendere le proprie offerte AWS fornendo un prezioso supporto commerciale, tecnico e di marketing.
Questo riconoscimento sottolinea l'approccio quality-first che da sempre caratterizza beSharp.
Ogni giorno dal 2011 beSharp affianca le aziende più innovative di ogni dimensione e settore nel design, nell'implementazione e nella gestione di infrastrutture complesse e servizi avanzati su AWS. Grazie alla loro expertise, i Cloud Expert di beSharp aiutano le aziende ad abilitare nuovi modelli di business per trarre il massimo vantaggio dal modello Cloud.
"In un mondo tecnologicamente in continua evoluzione, c'è molto spazio per innovare. Continueremo ad investire in progetti sempre più innovativi, nella formazione e nella certificazione delle nostre competenze. L'obiettivo per i prossimi mesi è quello di estendere i nostri servizi in Europa e nel mondo" dice Simone Merlini, CEO @ beSharp.
About beSharp
beSharp è la specialista italiana di AWS. AWS Premier Consulting Partner dal 2012, beSharp aiuta i propri clienti a progettare, implementare e gestire infrastrutture e servizi Cloud su AWS. Con un team di esperti AWS in crescita, beSharp ha contribuito a migliaia di diversi progetti Cloud per le più prestigiose aziende di tutto il mondo – Pirelli, General Electric e Roche tra gli altri – in molti campi diversi, dalle migrazioni Cloud allo sviluppo Cloud-native, da IoT e Big Data ai progetti AI/ML.