09 September 2021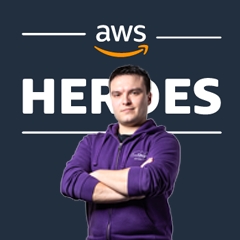 Simone Merlini, CEO CTO & co-founder of beSharp, has been recognised as an AWS Hero for Italy: he officially joins the most influential and active leaders in the Amazon Web Services community.
The AWS Heroes program identifies an enthusiast and diverse group of AWS experts worldwide who have distinguished themselves for their strong will to share knowledge and who have relevance within the AWS community. The 'heroes' create and share know-how and skills through social media channels, blog posts, open-source projects, forums, or in-person conferences, workshops, and user groups. In 2012 Simone co-founded the first AWS User Group in Italy and is currently the organizer of the AWS User Group in Milan. He is actively involved in the development of Leapp, an open-source project for managing and securing access to the cloud in multi-account environments. Simone is also Editor in Chief and author of the Proud2beCloud blog, which aims to share specific knowledge in the AWS environment to allow wider adoption of cloud technologies.
Aboout beSharp
beSharp is an Italian Amazon Web Services (AWS) specialist. An Advanced Consulting Partner in the AWS Partner Network (APN) since 2012, beSharp helps its customers designing, implementing, and managing cloud infrastructures and services on AWS. With a growing team of AWS experts, beSharp has contributed to thousands of different cloud projects for some of the most prestigious companies all around the world, including Pirelli, General Electric, and the Roche among others, in many different fields, from cloud migrations to cloud-native development, from IoT and big data to AI/ML projects.