01 December 2021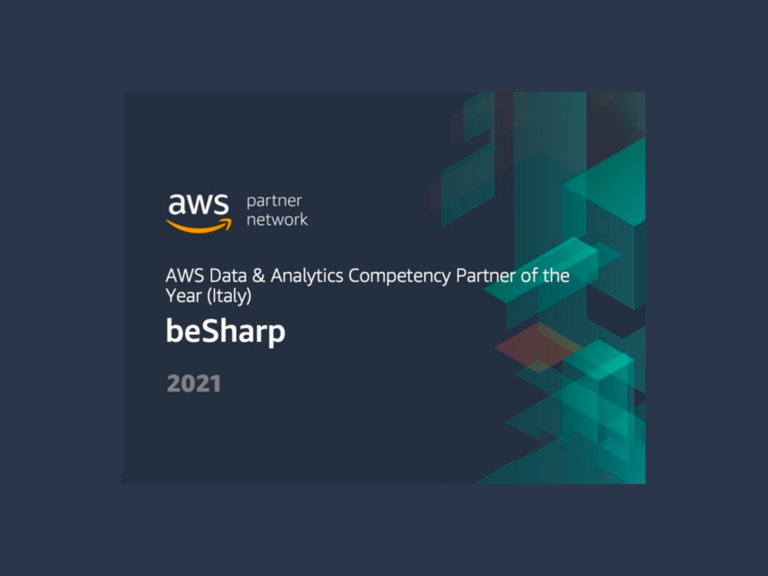 beSharp has been awarded as AWS Data & Analytics Competency Partner of the Year.
This award is dedicated to the partner who has been able to deepen Data & Analytics skills with AWS, continuing to expand and grow with AWS throughout 2021.
The APN Partner Awards is the recognition dedicated to members of the Amazon Web Services (AWS) Partner Network (APN) who are leaders in the channel and play a fundamental role in helping their customers innovate by building solutions on AWS.
Over the last 12 months, beSharp has specialized in designing, implementing, and managing Data Analytics infrastructures and Pipelines on AWS. By guiding numerous companies in implementing the most effective Data Analytics infrastructure, the beSharp team has successfully allowed them to extract the maximum value from data in the shortest possible time.
The experience gained in data manipulation through AWS data ingestion, ETL, and data visualization services and the achievement of the AWS Data and Analytics Competency led beSharp to be selected as AWS Data & Analytics Competency Partner of the Year for 2021.
The AWS Partner Awards – announced at the annual AWS Partner Summit – are conferred to those partners whose business models have embraced specialization and collaboration with AWS over the past year while operating across business models that continue to evolve and thrive on the AWS Cloud through constant work with customers.
The AWS Partner Network (APN) is a global program focused on helping thousands of partners who use Amazon Web Services to create solutions and services for their customers. AWS helps partners create, market, and sell their AWS offerings by providing valuable commercial, technical, and marketing support.
"I partner AWS aggiungono valore ai clienti all'interno di gamma di settori in tutto il mondo e sono fondamentali per il loro successo. Siamo lieti di conferire questo riconoscimento ai partner attraverso gli APN Partner Awards EMEA 2021. Sono entusiasta di continuare a lavorare insieme ai nostri partner per creare un grande 2022 ",
says Antonio Alonso Lopez, EMEA Director Partner Success at AWS.